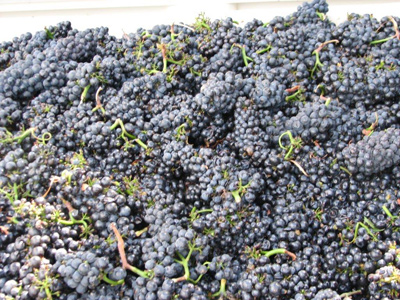 Although we started with just 257 vines we currently farm 80 acres consisting of a total of 11 different clones. All of our vineyards are contigous to each other with the winery facility situated in the center, making farming, harvesting and processing more efficient and easier to control quality.
We farm about 80 acres consisting of 6 pinot noir clones and 7 chardonnay clones, planted to 2 varieites of rootstock and trellisted in a 7 wire system that provides for a 4 to 5 foot canopy. We offer single clone and blended clone vineyard designated wines; all crafted to provide a variety of flavors.
Vineyard practices vary each year as we attempt to spar with Mother Nature, however, in general:
We pull leaves on the Eastern side and allow a full canopy on the Western side; this provides the clusters direct cool morning sun with afternoon shade.
We employ numerous weather stations and soil probes which provide data so we can minimize our organic spray routines and monitor the use of water.
We control the yields by cluster thinning; we typically thin to 10-15 clusters per vine for pinot noir and 18-22 for chardonnay.
We net the vines in the middle of August to protect from bird damage.
All in all, we make 12 to 15 passes each year through the vineyard touching each and every vine.